Not many organizations shed cash in the final quarter of 2013, but the first quarter of 2014 could be a different story. Twenty-nine percent of the North American finance execs surveyed by the Association for Financial Professionals earlier this month said they would be reducing their cash balances in the quarter, specifically their current cash and short-term investment holdings.
The spread between finance professionals that plan to reduce cash and those that will continue to hoard was not huge — twenty-eight percent of finance executives told AFP their cash balances would increase in the first quarter, just one percentage point fewer than those who said they would reduce cash. But lower cash reserves would be a positive sign for the economy, because presumably companies tap cash to acquire businesses, make capital expenditures, buy back shares and increase payroll, among other reasons.
Another positive economic sign is that finance executives appear to be willing to take on more risk with short-term cash investments to earn greater yields. Ten percent of the finance professionals responding to the AFP survey said they were more aggressive with short-term cash investments last quarter, compared with 3 percent who were more conservative. The difference between the two, 7 percentage points — which AFP calls an "index" reading — was up from zero a year ago, and is the highest since AFP started taking the survey in 2011 (see chart).
"Treasurers are seeing some opportunities for investment," said Jim Kaitz, AFP's president and CEO, in a statement.  "As expectations rise for higher interest rates, they are becoming marginally more aggressive in the ways they invest their corporate cash."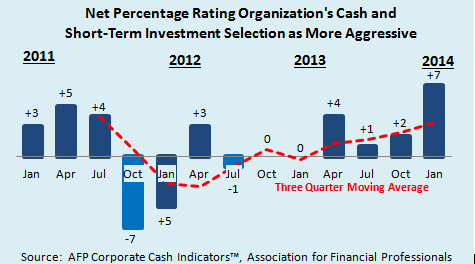 Importantly, finance executives' "plans" for using cash don't always work out: Last January (and the January before it) many finance executives said their companies would be cutting cash. But when 2013 was over, 45 percent of organizations had greater cash and short-term investment balances than they had on the books a year earlier.
Other economic indicators suggest 2014 might not differ much from 2013. Total capital expenditures by nonfinancial companies in the S&P 500 are projected to rise just 1.2 percent in the 12 months to October 2014, according to market data researcher Factset. In aggregate, according to the Financial Times, analysts' forecasts for capital spending growth by large U.S. companies are the lowest they have been since 2010.
Early Tuesday, the U.S. Census Bureau reported that new orders for manufactured durable goods decreased 4.3% in December, to $229.3 billion. Analysts had forecast a rise of 1.7 percent, according to Factset. The slowdown follows a 2.6 percent increase in durable goods orders in November.
Source: AFP Corporate Cash Indicators™ – Association for Financial Professionals