While nothing may be more certain for people than death and taxes, for firms that serve the business-to-business market, nothing may be more certain besides billing and taxes. For the CFO of one cloud- software-solutions provider, making sure customers bill efficiently is its top priority.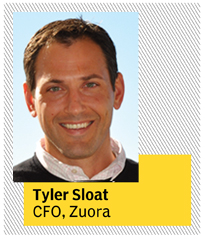 Tyler Sloat, CFO of Foster City, Calif.-based Zuora spends the better part of his day talking with the finance chiefs of client firms who want a more effective way to run their billing operations. From telecoms to IT companies, Zuora provides ways for corporations to not only "think about customers, but engage with them," according to Sloat.
To him, the real problem with B2B billing comes when CFOs realize, "I can't close my books." That's because while they might be collecting cash, he notes, they actually have no idea how to recognize revenue from any of these bills. According to Sloat, a CFO might say "I have no idea what I'm supposed to forecast going forward. I have no idea how to measure the success or [failure] of my different pricing and packaging, the pricing of my different products, the sensitivities of my business, etc."
Why such bewilderment? Spreadsheets only tell CFOs about the invoices they send out, Sloat notes. But just looking at that data set would leave a CFO saying, "I have a bunch of cash I collected. But it doesn't tell me anything about my business," he notes.
Zuora claims to provide an answer to that questions: a billing platform that reveals a firm's monthly and annual recurring revenue as well as its customer retention rate. Zuora's contends that its platform offers a way for customers to upgrade services, do invoicing, and provide financial information so that they can enjoy a"painless accounting close."
Zuora is banking on the notion that incorporating such non-GAAP metrics as recurring revenue into their financial is something that CFOs are asking for. While not "technically GAAP numbers…you are starting to see them be disclosed more and more in subscription-based businesses. Those are really the metrics that these businesses are run off of."
Further, he said, finance chiefs today need to think about the "entire customer relationship cycle" and not just transactional billing.  CFO spoke with Sloat about what that cycle might involve.
Do you consider yourself a subscription-based billing company?
We're a subscription-management company. Instead of a company thinking about products, selling a product again, trying to understand its margins and trying to optimize them, companies are shifting to having relationships with customers. It's about trying to have perpetual relationships with customers and then offering products or services. Legacy billing systems don't have a concept of time in their system that allows them to think about what the value of a customer is at any point in time.
Why do companies need platforms like the one your company offers?
Companies have a need to know their revenue going forward and, obviously, the cash they are going to have going forward, based on the relationship they have with their customers at any point in time. That's the main difference from a subscription-economy business and a more legacy billing system that doesn't provide that information. There is a cyclical relationship that a business needs to have with its customers. That relationship starts the way they market and acquire those customers. It then goes to how they financially transact with those customers' billing and report their business.
Do recent investigations like the Securities and Exchange Commission probe into how IBM recognized it cloud-based revenue hurt the cloud business as a whole?
It's not stopping companies. We've actually had a huge influx of RFPs and RFQs from companies who are trying to think about how they can shift more towards a subscription-based platform by having a perpetual relationship with their customers. Reporting more of the metrics available from platforms like these will start to become requirements of financial reporting.