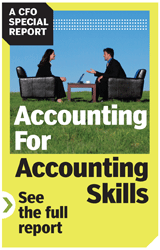 This is the third of three articles in a special report looking at those qualities most needed today in accounting and finance staff. Accountants Need to Show Their Softer Side and New Hires: A Skills-and-Demand Balancing Act explore U.S. staffing needs.
---
U.S. CFOs have largely shed their longstanding taint as mere bean counters. Instead they have touted the value of their broad economic and strategic skills and conveyed that message to their finance staff. But their counterparts in the rest of the world aren't giving up on old-fashioned number-crunching just yet.
New research from a survey of nearly 500 CFOs based outside of the United States shows that 80% believe it's important for newly qualified finance professionals to understand the "finance value chain," meaning they should have a breadth of financial understanding across core financial and management-accounting areas, as well as more specialized areas. To be sure, the survey was conducted by the U.K.'s Association of Chartered Certified Accountants (ACCA), a trade group with an interest in advancing the profession.
Still, the survey, which polled CFOs who work in the United Kingdom, Malaysia, Russia, China, and the United Arab Emirates, provides a clear picture of finance chiefs with sharply differing views from their U.S. peers. More than half said "the most beneficial grounding to help a newly qualified finance professional on the path to being a future leader was a full appreciation of financial and management accounting," according to the report. In contrast, only 17% of those surveyed said a strong strategic focus was a good grounding for the finance professional.
"A key priority of the finance function continues to be its fiduciary responsibilities because financial control of the organization remains fundamental to creating a platform for sustainable business growth," the report said.
That tilt toward the basics of accounting is no surprise to Jamie Lyon, head of the corporate sector at the ACCA. He notes that the recent economic recession may have pulled in the reins on CFOs spending so much of their time fostering company growth and forced them to look more at the financial soundness of the firm — and for that matter the tax and regulatory skills of their staff.
"There has been a little bit of a shift following the economic crisis. Precrisis, there was a lot more focus around growth," says Lyon. As the recession hit, he says, global CFOs began to immediately question, "What's my cash position from day to day? What's happening to my costs? What's happening with my controls?"
Such anxieties may have triggered a shift back to the basics. "The CFO is a key adviser to the strategic (decision makers); that's not in question. But there is a balance to be had in these times. That balance is around cost management and certainly managing risks," says Lyon. "Finance as a function has been slightly brought back into focus."
CFOs, the report maintains, must balance the pursuit of growth with the appropriate control of the organization, which is needed for long-term wealth creation. "CFOs recognize that long-term value cannot be created or sustained unless the business is appropriately controlled," meaning "its risks managed effectively, its funds protected and maximized, and its core fiduciary responsibilities met."
Finance staff, respondents maintained, need to be well versed in effective cost management, forecasting, strengthening the control environment, ensuring appropriate levels of working capital, and managing risk. Further, understanding the links among all areas of finance would enable new recruits to take their career "in any direction they chose," according to another 80% of those surveyed.