The Public Company Accounting Oversight Board on Tuesday issued a report including statistics that amount to a clear message of "buyer beware" to potential investors in emerging growth companies, as they're defined under the Jumpstart Our Business Startups Act of 2012.
For example, about 50% of 1,209 firms filing as emerging growth companies that were not listed on a securities exchange reported zero revenue in their most recent filing with audited financial statements, according to the white paper. (There were 742 EGCs whose common stock was listed on a U.S. exchange.)
Further, almost a quarter (23%) of the non-listed ECGs disclosed that they were shell companies.
The report is based on information derived from the most recent Securities and Exchange Commission filings plus data from third-party vendors through November 15, 2016, the most recent measurement date. All of the studied companies identified themselves as EGCs in at least one SEC filing since 2012 and filed audited financial statements with the SEC in the 18 months preceding the measurement date, according to the report.
In general, a company qualifies as an EGC if it had less than $1 billion in annual revenues in its most recently completed fiscal year and hadn't sold common stock on or before December 8, 2011. "Title I of the JOBS Act focuses on reducing regulatory burdens on EGCs in order to facilitate capital raising through public markets," the PCAOB noted.
The board culled the data in the report to "inform the analysis" of recommendations it makes to the SEC on whether new auditing rules should apply to ECGs.
The data points cited above and other highlights of the PCAOB findings appear to provide ample fodder for arguments in favor of keeping a close eye on the small companies.
About 51% of the EGCs studied, and 74% of those that weren't exchange-listed, were slapped with an explanatory paragraph in their most recent auditor's report that expressed "substantial doubt about the company's ability to continue as a going concern."
And, among the 1,262 ESG filers that provided a management report on internal controls over financial reporting in their most recent annual report, about 47% reported material weaknesses.
After a years-long surge of growth in active ECGs following the 2012 enactment of the JOBS law, the number of such filers has stabilized of late, the report noted. The number rose by just four firms at the Nov. 15, 2016 measurement date, as compared with May 15, 2016, to a total of 1,951. By contrast, the number rose steadily from 575 in November 2012 to 1,970 in November 2015.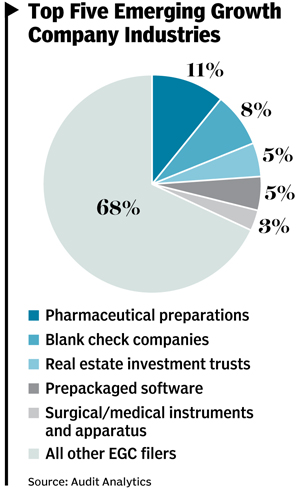 In a perhaps encouraging sign to investors and advocates of deregulation, the percentage of EGC filers that have filed periodic reports has been on the rise. As of Nov. 15, 2016, about 87% of the total 1,951 EGCs had filed periodic reports, compared to the 70% that had done so by November 2013. The remaining 13%, or 248 ECGs, have filed audited financials in registration statements, but had not yet filed periodic reports as of last Nov. 15, according to the PCAOB paper.
Overall, the five most common kinds of EGC filers are pharmaceutical preparations firms; blank check companies; real estate investment trusts; prepackaged software companies; and surgical/medical instruments. (See chart.) Combined, those five industries accounted for 32% of the filers.
Assets reported by the EGCs ranged from zero to about $19.4 billion. Although the average assets were about $245.9 million, half of the companies reported assets of less than $5.9 million. Annual revenues ranged from zero to about $978.5 million. The average revenue was approximately $56.6 million, although half reported sales of less than $140,000.