After two straight years of softening predictions, retail CFOs forecast 4.9% sales growth for the industry in 2017, according to the results of a survey released Monday of 100 of the finance chiefs in the industry.
Sparked by their bullish projections of online revenue and a lucrative 2016 holiday season, their prediction of overall sales growth spiked for this year after forecasts of 3.9% for 2015 and 3.4% for 2016, according to the BDO survey. Their projection of sales growth in online channels for 2017 hit 10.7%, the highest level in the survey's 11-year history. (See graph.)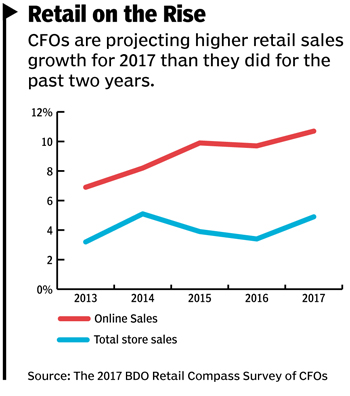 Further boosting optimism is rising consumer confidence, according to the report, which cited the 15-year high registered in December by The Conference Board's consumer confidence index. BDO reported that 67% of retail CFOs believe consumer confidence will rise in 2017, increasing from the 28% who felt that way at the start of 2016.
But right after the finance chiefs were surveyed in January, the industry began to face headwinds that might eventually threaten the accuracy of its optimistic outlook. First was a substantial sales slowdown in February.
Natalie Kotlyar, the national leader of BDO's consumer business practice, attributes the slowdown in part to what she said was the late arrival of IRS refund checks, meaning that consumers had less money to spend.
Another factor might be that February 2016 had one more day to sell goods because it was a leap year, thus decreasing the sales performance of February 2017 by comparison.  But "ultimately two months don't make a year," she said. "I think retailers are in general cautiously optimistic."
More ominous is the possible enactment of a federal border tax on imports (accompanied by a tax break on exports) that could devastate the many retailers who fill their shelves and warehouses with them. True, many would also benefit from the big cuts in corporate taxes being contemplated by President Trump and Congress. But the result may end up a net loss for the industry, according to Kotlyar.
Maybe the tax cut and the border tax "will balance out for some of the industries out there or even the economy as a whole," she acknowledged. "However, when it comes to retail, because so much of the product is imported and so many [retailers] have relatively low margins, the retail sector overall is going to be hurt by these changes."
Particularly hard hit for by a border-adjusted tax would be U.S. retailers that import goods directly from overseas. "They would be hit pretty hard because their cost of goods sold would not be deductible for tax purposes," as it is currently, Kotlyar says.
Retailers that buy their imports from intermediaries, such as distributors or wholesalers, would also be affected. That's because intermediaries would likely pass along the cost of the import taxes by charging retailers more for the imports, according Kotlyar.
But there would be one set of "big winners" among retailers should the president sign a border tax plus a big corporate tax cut into law, she says. Retailers that manufacture their goods here or buy products from domestic vendors wouldn't have to pay the import tax (and would get breaks if they export), but would benefit from the big tax cuts.
At the time the survey was conducted in January, however, "a majority of retail CFOs were not familiar with the specific proposal on import tax."
In all, 22% of the retail CFOs cited "federal, state and local regulations as the top risk keeping them up at night," according to the survey.