The 2016 CFO/REL Working Capital Scorecard
Working capital performance among America's largest companies took a turn for the worse in 2015. After three years of stability, the cash conversion cycle — the amount of time that cash is tied up in working capital — increased by 7% (2.4 days) for the 1,000 large nonfinancial companies recently surveyed by REL, a working capital consultancy and division of the Hackett Group. At the end of 2015 the cycle stood at 35.6 days, the highest level since before the financial crisis.
But all is not as dismal as it may seem. One very large industry — oil and gas, which accounts for 9.9% of the revenues of the companies in REL's survey — drove the poor performance, owing to the spectacular fall in oil prices since the summer of 2014. When oil and gas companies are excluded from the results, the cash conversion cycle actually improved in 2015, falling by 0.1 day.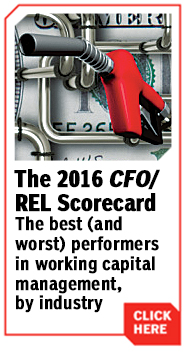 That's hardly reason to cheer, though. Companies still prefer to raise cash in part by issuing debt at low interest rates, rather than by improving working capital efficiency, says REL. Debt for the top firms increased by 9.3% ($413 billion) in 2015, while cash on hand ($977 billion) is at its highest level since 2008, according to Craig Bailey, a senior director at REL. Following the end of the recession, the largest companies have increased their collective debt six years in a row, by a total of 58%.
Meanwhile, the cash conversion cycle shortened at 457 companies, but lengthened at 543. Also, the overall working capital turnover ratio (revenue divided by net working capital), which indicates how effectively companies use working capital to generate sales, deteriorated. Companies earned 5.1 cents less revenue per dollar of working capital spent in 2015, compared with 2014.
And the total working capital improvement opportunity — defined as the amount of cash that could be freed up if all the companies in REL's survey performed at the level of the top quartile in their industries — remained at $1 trillion. Even if everyone is above average only in Lake Wobegon, the enormous sum reflects the level of inefficiency in working capital management among U.S. companies.
What's more, REL's research indicates that even when companies do focus on working capital improvement, their attention spans are short — three years or less for most, based on cash conversion cycles.
Inventory Ills
Of the three pieces of working capital opportunity, the largest is inventory, at $421 billion in 2015. Days inventory outstanding drove the increase in the cash conversion cycle, rising 10.3%, from 44.5 days to 49.1 days. But when oil and gas is excluded from the results, DIO rose just 3.7% in 2015, continuing a slight upward trend since the end of the recession.
Bailey notes that inventories were flat at many firms and actually decreased by 2% overall. But the cost of goods fell by 7.4% for the top companies, as revenue declined by 5.3%, again driven by oil and gas. That caused days inventory outstanding to rise, as cost of goods sold is the denominator in the DIO formula (see "How Working Capital Works," here).
In the oil and gas industry, DIO soared more than 50%, from 17 days to 26 days. Inventories declined by 6%, but cost of goods decreased 13%, as falling oil prices spurred the industry to reduce costs. Days inventory outstanding also rose substantially (16%) among the 10 industrial conglomerates in REL's survey, led by Icahn Enterprises, whose DIO jumped 56%, from 42 to 66 days. Yet Icahn remained one of the best performers in the sector, measured by its relatively short cash conversion cycle.
Other factors affected inventories in 2015, says Bailey. One was the West Coast port strike at the beginning of the year, which resulted in supply chain backlogs at many companies. Another source of inventory inefficiency was the continuing trend of multinationals moving sourcing from China to even lower cost countries, where suppliers lack the sophistication of their Chinese counterparts, and where infrastructure and transportation issues create longer lead times.
The challenge for these multinationals, says Bailey, is to strip out inventory buffers by better integrating their supply chains—adopting new technology, working more closely with suppliers, and sharing data about forecasts and expected demand. "We've seen organizations not only share better information with suppliers, but also share risk as well—entering into certain stocking agreements with local suppliers, for example," he says.
Stretching Payables
The second-largest source of working capital opportunity, accounts payable ($334 billion), showed improvement last year. Days payable outstanding increased 5%, from 47.7 days to 50.1 days.
Indeed, DPO performance has trended upward during the past eight years, by a total of almost 10 days, says Shawn Townsend, a director at REL. By contrast, DIO has deteriorated by about the same amount during the same period, while days sales outstanding has remained essentially flat since 2008.
There are good reasons for the varied results. For starters, inventory is far more complex to manage than the other two components of working capital, while collections efforts must stop short at creating customer disruptions, points out Derrick Steiner, an REL director. "Typically, management feels more comfortable addressing the payables side," he says. "They have more direct influence over it, and companies have the internal ability to improve and adopt DPO best practices."
In fact, large companies have been extending their supplier payment terms. Net 60 days is currently standard for North American companies, says Townsend, but a number of large companies have taken advantage of their market position and leverage to extend their payment terms to 90 days and even 120 days, he says.
Stretching payments so far (or squeezing suppliers, as detractors would say) raises the risk of destabilizing the supply chain, notes Townsend. To forestall this, some companies are extending payment terms in conjunction with a supply chain finance program, which enables suppliers to sell their receivables before maturity to a designated bank at a discount based partly on the seller's credit strength.
Supply chain finance has been growing in popularity since the financial crisis, says Townsend. Large banks have traditionally dominated the market, but a number of fintech companies, such as Taulia, Kyriba, and PrimeRevenue, have entered the space with technology platforms and, in some cases, financing.
Receivables Stability
The smallest component of working capital opportunity is accounts receivable, amounting to $316 billion. Days sales outstanding remained basically unchanged in 2015, rising by 0.4 day to 36.7 days. Receivables performance has been essentially flat since 2009, a pattern that persists even when individual industries are considered, says Ben Michael, a director at REL.
What accounts for the stability? "Some of the mechanisms for improving performance are in your own hands," answers Michael. "Payment terms obviously impact the performance of receivables, but you can influence collections directly through the robustness of your internal procedures."
Net 30 days continues to be the standard customer payment terms among the largest companies, according to REL. Whatever the duration, setting and enforcing standard terms is key to improving receivables performance, says Todd Glassmaker, an REL director. Doing so should involve, on one hand, close collaboration between finance and sales; and on the other, working with customers to understand and resolve any billing issues or other concerns they may have.
"Really understand the difference between your DSO and payment terms, or what we refer to as 'the best possible DSO,'" says Glassmaker. "Know what the gap is between actual performance and the target to shoot for." To hit that target, adds Michael, "you need to have the whole organization, from sales and operations to credit and collections, pointing in the same way, with everyone understanding the impact of their particular actions."
Keeping Score
Drawing from REL's latest working capital survey of the 1,000 largest U.S.-based companies (excluding the financial sector), the 2016 CFO/REL Working Capital Scorecard shows the best and worst companies in working capital management in 27 industries. Companies are ranked by their cash conversion cycles; to learn how CCC is calculated, see "How Working Capital Works" above the scorecard results.
The survey calculates working capital performance based on the latest publicly available data, as sourced from FactSet/FactSet Fundamentals. In order to provide comparable analysis, REL has made adjustments to the data to reflect the impact of off-balance-sheet arrangements and financing revenue and receivables.
Edward Teach is Editor-in-Chief at CFO.