Any explanation of the current controversy involving the tax collection responsibilities of Internet retailers should start with a tale of two economies.
On the one hand, there still exists an economy of small and midsize enterprises selling goods in stores and warehouses built of wood and concrete, bricks and mortar — stores, for example, like Stowe Mercantile, which is situated in a well-known Vermont ski-resort town with a population of about 4,000. "We're a general store on Main Street here in Stowe, and we do a couple of million in sales," says founder and owner Marc Sherman. "So we're a tiny little business."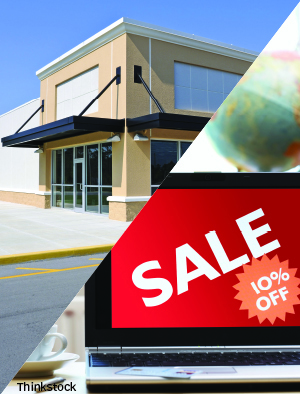 In all but five states, businesses with a clearly defined physical presence like Stowe Mercantile are required to collect sales taxes from their customers. (Vermont was the last state to adopt a sales tax, in 1969.) Since a 1967 U.S. Supreme Court decision, National Bellas Hess, Inc. v. Department of Revenue of Ill., however, out-of-state retailers who have sold products via mail order, for instance, have been excused from that responsibility.
Under that decision, use taxes (sales taxes on out-of-state purchases) are still due. But they must be collected from the customer, not the out-of-state seller.
Yet because the way that business is conducted has undergone a sea change since 1967, the existing regime of sales tax collection needs a second look, Justice Anthony Kennedy wrote in his concurrence with another Supreme Court opinion in March of this year.
Prompted by the rise of the Internet, the pace of change has accelerated exponentially since a 1992 court ruling, Quill Corp. v. North Dakota, reaffirmed the 1967 ruling. In 1992, U.S mail-order sales amounted to $180 billion. "But in 1992, the Internet was in its infancy. By 2008, e-commerce sales alone totaled $3.16 trillion per year in the United States," wrote Kennedy.
In short, a second kind of economy has arisen, demanding a reexamination of existing tax laws to fit the new reality. "The Internet has caused far-reaching systemic and structural changes in the economy, and, indeed, in many other societal dimensions," declared Kennedy. "Although online businesses may not have a physical presence in some States, the Web has, in many ways, brought the average American closer to most major retailers. A connection to a shopper's favorite store is a click away — regardless of how close or far the nearest storefront."
The justice's statement has been greeted warmly by brick-and-mortar retailers, who contend that the current sales tax regime gives their online competitors an unfair advantage. Some, like Sherman, go as far as to contend that giving out-of-state retailers a bye on the collection of sales taxes helps threaten a way of life. "As you might imagine, lots of Vermont is made up of little stores like mine — little tourist towns or old community centers that exist only with a general store, a post office, and maybe a couple of other things. We're really in jeopardy of losing a lot of that character of Vermont," he says.
To compete against out-of-state online retailers, Sherman stocks his store with private-label or hard-to-find Vermont maple syrup, honey, fudge, and other locally featured items. But having to add sales tax to the bill can drive customers to their smartphones to buy similar items that are untaxed, even though they might be more common. "Many of the products we sell you can find online for less," says Sherman. "So I'm at a tremendous disadvantage because I have to charge sales tax."
Leveling the Playing Field
Lately, however, businesses like Stowe Mercantile have had reason to believe that their hopes for what they see as a more level playing field might be realized. On March 10, exactly a week after Kennedy's opinion was issued, a bipartisan group of U.S. senators introduced the Marketplace Fairness Act of 2015. The stated aim of the MFA is that of "restoring states' sovereign rights to enforce state and local sales and use tax laws."
To the brick-and-mortars, that would go a long way toward restoring balance in the marketplace. Other pieces of similarly targeted legislation have been circulating in the House as well as the Senate. Legislators in states craving revenue have also put a plethora of bills on the docket to enable their states to recoup sales taxes on Internet purchases.
Such efforts, on the other hand, have struck fear into the hearts of online retailers, who foresee an administrative nightmare if they are required to file tax returns and periodic reports in all the jurisdictions where they sell products. In fact, including cities and towns and other local governments, there are 9,998 sales tax jurisdictions, according to the Tax Foundation, an independent tax policy research outfit.
To be sure, online businesses like ASI Medical, an Englewood, Colo., provider of dental equipment, don't have to collect taxes from out-of-state customers. But owners of such outfits are wary of increasingly aggressive tax collectors outside their home base. "You have to be careful going to meetings [and] shows," says ASI president John McPeek. "They're always trying to look for something that qualifies you as being effectively doing business in that state."
Startling Shortfalls
The states have their reasons. As a result of the 1967 and 1992 Supreme Court rulings, states have been unable to collect huge amounts of tax dollars due on out-of-state purchases, Kennedy noted. For instance, California estimates that it has been able to collect just 4% of such taxes, and Colorado lost about $170 million in sales tax revenue in 2012. "The result has been a startling revenue shortfall in many States, with concomitant unfairness to local retailers and their customers who do pay taxes at the register," the justice wrote. "States' education systems, health care services, and infrastructure are weakened as a result."
A big factor driving the push for change is that the sales tax rates that brick-and-mortar outfits must charge their customers can be daunting. Cashiers at Treats Unleashed, a pet supply company with seven locations in Missouri and Kansas, must charge customers as much as 10% in sales tax on their purchases, according to founder and owner Teresa Miller. "We really find that a 9% to 10% expense range starts making a difference to consumers," she says.
The company, which makes less than 5% of its $10 million in annual sales online, struggles to differentiate itself from pet-food suppliers that operate exclusively on the Internet by having trained pet nutritionists among its 50 employees and providing consumer education events to the public. "You can come into my store and get the advice on what you need to buy for your dog or for your cat," says Miller. "But that 10% additional sales tax we collect becomes material. If you're spending $60 for a bag of pet food … it becomes enough to make a difference."
Particularly discouraging for such business owners is the increasing number of consumers who engage in "showrooming" at their stores. Explains Stowe Mercantile's Sherman: "This past year, we've noticed that people will come into our store with their smartphones, scan a barcode, and announce that they can find it cheaper … online," largely because of the lack of sales tax.
A three-year-old global study by PricewaterhouseCoopers of 11,000 online consumers, on the other hand, presented evidence that suggests showrooming isn't really a widespread problem for brick-and-mortar retailers. Twenty-three percent of the respondents said, in fact, that they first research consumer electronics on the Internet and then go to a store to buy the product. In comparison, only 2% said they engage in showrooming.
Resistance in Washington
The PwC survey, "Demystifying the online shopper," did not, however, address the issue of online sales. Further, many retailers without a significant online presence feel strongly that they have faced an increasing disadvantage compared with online vendors in recent years — so much so that they're bringing their case to state capitals and to Washington.
As chair of the legislative committee of the Vermont Retail and Grocers Association, for example, Sherman has been struggling along with his peers to get an online sales tax bill enacted in the state. Teresa Miller went to Washington twice last year on behalf of the National Retail Federation (NRF) to present the point of view of companies like Treats Unleashed. "This will become a bigger issue for businesses like ours as … large Internet-only businesses become more prominent," she says.
Despite growing support for bills like the MFA, however, they face considerable resistance in Congress, particularly in the House. David French, senior vice president of government relations at the NRF, which supported a version of the MFA that passed the Senate in 2013 but died in the House, says opposition to such a bill has been based on "red herrings" and misunderstandings. "Most members of Congress think this is a federal tax on Internet sales, and it really isn't," he says. "It's about allowing state laws that already require the collection of this tax to be in effect, and it's nothing more than that."
But to small online vendors like ASI Medical, that could amount to a blizzard of paperwork. "I'm actually all for creating a uniform state tax that would level the playing field" with brick-and-mortar stores, says McPeek. "What makes if difficult is that you have all the local cities, counties, and other taxing jurisdictions."
He has special concerns about having to collect taxes because sales of ASI's dental equipment tend to be relatively high in price but low in volume. Thus, the firm might find itself in the position of having sold an item to a dentist in a jurisdiction where "it could be years, or possibly even never, that you could actually have another sale in that very same jurisdiction," he says. In that case, the company might be required to fill out not just the state's paperwork but all the forms for the applicable city or county as well.
States Take Action
Another administrative problem is that, regardless of what's going on at the federal level, states are forging ahead with legislation aimed at getting around the physical-presence requirement and grabbing as much tax revenue as they can from outside vendors. While not many of the states have actually passed laws, there's a great deal of state legislative activity going on now that involves such notions as "click-through nexus," according to Andrea Piersma, a national manager for Ryan, a tax consulting firm.
Under that theory, a state could mandate that an out-of-state seller
collect taxes on revenue collected in the state if the vendor has an affiliate-marketing arrangement with a person or company in the state. "For a commission or some other consideration, the affiliate will place a link on its website to that out-of-state seller's website, effectively channeling business their way," Piersma explains.
Many states are looking to enact click-through-nexus laws in which the seller must book a minimum of $10,000 in affiliate sales in the state before it's required to collect taxes, according to Piersma. Such laws would be "rebuttable," meaning that outside vendors with affiliate relationships wouldn't have to collect taxes if they're able to show that the affiliates aren't actively soliciting on behalf of the company.
Nevertheless, if a fair number of states enact such laws, it would be "a huge about-face" in terms of the compliance challenges of online sellers, Piersma says. "Overnight, there could be a huge administrative burden that the businesses would then be responsible for."
An App for That
But wouldn't a federal solution like the MFA, which could empower states across the entire nation, spawn a much greater administrative nightmare for Internet vendors? Well, no. As they say, there's an app for that. "There's existing software in the market and vendors in this space that will handle all of your collection obligations in all … jurisdictions," contends the NRF's French. "So that really isn't a serious concern."
In 24 states, in fact, online retailers can already get free software and services that can relieve much of the administrative burden. As participants in the Streamlined Sales and Use Tax Agreement — a multistate agreement for the administration and collection of sales and use taxes adopted in 2002 — those states can pay a handful of certified software providers commissions to collect sales and use taxes and file tax returns for out-of-state merchants. Under provisions of the MFA, more states could participate.
Currently, those free services appear to be extensive. According to the website of TaxCloud, an application provided by FedTax, one of the certified providers, the app "calculates sales tax in real time for every state, county, city, and special jurisdiction" in the United States; files sales tax returns automatically; and prepares "monthly state-by-state reports on sales tax collected."
In contrast to administrative burdens, a "more legitimate concern" for online sellers if a bill like the MFA became law would be the possibility of numerous state and jurisdictional tax auditors piling on a vendor, says French. "How can these various taxing jurisdictions audit or double-check your collection returns? Under what terms and conditions can they do that?" In that respect, he favors legislation that would add audit protections to a bill like the MFA.
Yet regardless of whatever legislation may someday be enacted, there's a principle of sales tax collection that business owners on both sides of the two economies seem to agree on: the current system needs to be made more predictable. Even for exclusively online remote sellers, certainty could be a benefit that could balance out other concerns, according to French. As sales tax bills languish in Congress, states are trying to cobble together their own solutions, cooking up "a very complex stew of state regulations and laws on sales tax collection," he says.
"That creates uncertainty, and uncertainty creates legal risk for companies that sell in those states," French adds. "Eventually, there's going to be enough uncertainty in the marketplace that a federal solution is desired by everybody."
David M. Katz is a deputy editor at CFO.