Lower oil prices may not only be a boon for consumer spending, but also for business travel, which is expected to reach record levels for U.S. firms, according to the Global Business Travel Association.
Corporate travel expenditures, once totaled, are expected to reach a record $292.2 billion in 2014, and the projection for 2015 remains strong, despite an overall weak global economic outlook, with trouble in Europe, Asia, and Russia, according to the GBTA report released this month. U.S. business travel spending in 2015 should increase 6.2% to $310.2 billion, while total "person-trip" volume should rise 1.7%, to 490.4 million trips. (Click on image for a larger version.)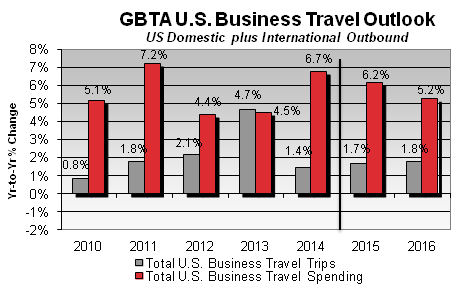 "2014 was a stabilizing year for U.S. business travel, with continuous, sustained growth, despite a plethora of external issues internationally that have weighted down economies in Europe, Russia, and Asia," GBTA's executive director and chief operating officer Michael W. McCormick said in a press release. "This is a significant and encouraging sign of confidence in the strength of the U.S. economy."
Roughly 482.4 million trips were taken in 2014, the GBTA estimates, a 1.4% increase from a year earlier. International travel in particular rebounded, rising 6% in volume year-over-year, after falling 1% in 2012 and rising only 1.1% in 2013. This gain in volume amounts to an estimated $35.6 billion for 2014, a growth of 8.9% year-over-year.
Lower oil prices could dampen airfares. The GBTA expects a price decline of 0.9% prices this year, down from a projection of a 4% increase in last quarter's GBTA report.
Chart: GBTA