If nothing else, the American Taxpayer Relief Act (ATRA), enacted on January 1 and designed to yank the nation back from the brink of the fiscal cliff, has allayed small-business uncertainty about taxes, if not about the spending cuts that Congress punted down the road. Here are some of the act's provisions and how they will affect the taxation of small-to-midsize companies in 2013.
1) Income Tax
The individual income-tax rate was among the most hotly debated issues in last year's Presidential campaign. The marginal tax rate directly affects smaller businesses because they tend to be organized as pass-through entities, with owners paying the individual tax rate on business income. ATRA made the Bush tax cuts permanent for everyone except those earning more than $400,000 as single filers; their top rate rose from 35% to 39.6%.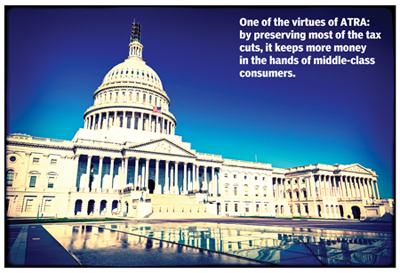 National Federation of Independent Business tax counsel Chris Whitcomb, while pointing out that his membership wasn't exactly jumping for joy over the top-rate increase, allows that "permanency on the rates generally helps small business," since it permits companies to plan with the greater confidence that comes from cost predictability. Rhett Buttle, government affairs director of Small Business Majority, a small-business advocacy organization, says another virtue of ATRA for small businesses is that by preserving most of the tax cuts, it keeps more money in the hands of middle-class consumers. "The number-one thing we hear from small-business owners is that they want more customers coming through the door," he says.
2) Section 179 and Bonus Depreciation
The good news for small businesses is that ATRA hiked the immediate deduction that businesses can take for capital purchases (new and used, financed or leased equipment, and off-the-shelf software) from 2012's limit of $139,000 to $500,000 for 2013. A child of the postmeltdown economic stimulus, Section 179 was designed to spur capital investment by allowing an extra write-off when an asset is purchased, says PricewaterhouseCoopers tax partner Alfred Peguero.
The bad news is that the limit on what a business can deduct is slated to fall to a mere $25,000 in 2014. "That means you can plan for only one year," says Whitcomb. "It's not a permanent fix. That doesn't help with certainty."
ATRA also extended bonus depreciation, which allows companies to write off equipment over time, by one year. But firms can now take it only on new equipment, not on software.
3) The R&D Credit
The research-and-development (or experimentation) tax credit was extended through 2013. It allows businesses to deduct capital expenditures on R&D as business expenses, either taken in the year they are incurred or amortized for no less than 60 months. In 2005, the credit reduced "business's costs of new qualified research by between 6.4% and 7.3%," according to the Government Accountability Office. In 2009, that represented a $5.6 billion federal subsidy for R&D, the GAO wrote in a recent report.
4) Payroll Tax
ATRA did not extend the 4.2% Bush-era rate for employee Social Security tax, which has gone back up to 6.2%. This will take money out of taxpayer pockets, something that concerns small-business owner Robert Skenderian of family-owned Skenderian Apothecary, in Cambridge, Massachusetts. "People have been buying less for the last four years, and they'll continue doing that as they see their [paycheck] shrinking," Skenderian says.
The rise in the payroll tax is "taking money out of the hands of consumers," says Buttle of Small Business Majority. "We would have preferred extending it another year."