Thanks to a 1992 U.S. Supreme Court decision, online retailers have been exempt from collecting sales taxes in states where they have no physical presence. But times are changing. Starved for revenue, a number of states have passed new laws or are using existing statutes to redefine physical presence and capture sales taxes from online purchases. More than a dozen states have such laws in place, and about as many more have similar legislation pending.
Some observers predict that smaller online businesses will be hit hard by the new laws, because they lack the resources to comply with the many tax-reporting rules in the places they do business. "It's an absolute nightmare from a small-business perspective," says Marshal Kline, a member of Dow Lohnes Price tax consulting group.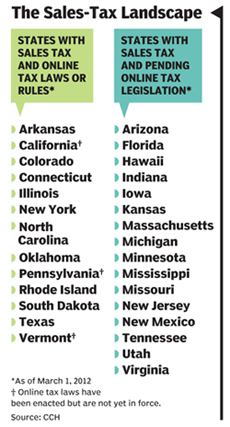 But business groups like the National Retail Federation argue that allowing online retailers to skip out on collecting sales tax gives them an unfair advantage over brick-and-mortar companies. The states agree, saying companies that operate online should have to collect sales tax like every other business.
The debate could become moot if one of three federal bills currently queued up in Congress becomes law. All of them would oblige Internet retailers to collect sales taxes under a streamlined system, and all would exempt small online retailers from the requirement.
The Tax Is in the Details
Forty-five states levy sales taxes, and their laws differ widely on details and definitions. In New York, for instance, most food is exempt from taxation, but there are a number of exceptions. Businesses in the state must collect sales tax on chocolate candy, for example, although chocolate used for cooking is usually exempt from sales tax.
Most online retailers have never had to pay much attention to such details. Twenty years ago, the Supreme Court ruled in Quill Corp. v. North Dakota that businesses aren't responsible for collecting sales tax from customers unless they have a physical presence, or nexus, in the places their customers live or to which the companies ship purchases. The Court indicated that complying with so many conflicting state laws would be a hardship for online companies, according to Susan Haffield, a partner at PwC.
To comply with the nexus requirement, some states, such as New York, have introduced "click-through nexus" laws. Under these statutes, if an out-of-state online retailer asks an in-state company to solicit sales — perhaps paying the in-state company a commission for linking to its website — the online retailer would then have to collect sales tax on purchases in the state.
Other states are applying statutes they already have on the books to set up click-through nexus, says Kline. If a company has an agreement to link to Amazon.com, for instance, its state of residence may try to argue that the company is an "agent" of Amazon and then require Amazon to collect sales tax on purchases sent to the state, he says.
States are also passing "affiliate nexus" laws that require each online retailer that has an affiliate with a store or other physical presence in a given state to collect sales tax from all customers in that state, even if a purchase is made on the online retailer's website.
And some states are making one-time deals with Amazon.com. Last year California, for example, allowed the company to postpone collecting and remitting state sales tax until September 15, 2012.
Federal Solutions
Not surprisingly, online retailers are criticizing the flurry of state laws. Amazon, for one, is pushing for a federal law that would standardize state sales-tax regimes. Many states and brick-and-mortar business groups agree that a federal law could help fill state pocketbooks by making it easier and less costly for businesses to collect sales tax.
Legislators in Congress have introduced three bills that would do just that: the Main Street Fairness Act, sponsored by Sen. Richard Durbin (D–Ill.) and a group of Democratic legislators; the Marketplace Fairness Act, sponsored by Durbin and nine other senators from both sides of the aisle; and the Marketplace Equity Act, sponsored by representatives Jackie Speier (D–Calif.) and Steve Womack (R–Ark.).
The first two bills allow states to demand sales tax on purchases from large online and mail-order retailers if those states join the Streamlined Sales and Use Tax Agreement (SSUTA), a project created by a number of the states to standardize the tax system. After the Quill decision, many states that collect sales tax agreed to try to simplify and unify their laws in an attempt to "convince Congress to enact federal legislation that would overturn the Quill case," says PwC's Haffield.
Under the SSUTA, state and local jurisdictions each have one tax rate, or possibly two. All the states must define products, like candy, the same way. To lower business expenses, each state must offer one central database or location for companies to file their taxes. The agreement also offers an exemption for small retailers that make $500,000 or less in national remote sales per year.
At press time, 24 states had passed legislation conforming to the agreement. Absent are the largest states, including New York, California, Illinois, Texas, and Florida.
Under the Marketplace Fairness Act, states that decline to join the SSUTA can also require sales tax collection on remote purchases if they simplify their taxation policies according to the bill's standards.
The third bill, the Marketplace Equity Act, also attempts to streamline sales-tax collection, but remains independent of the SSUTA. Each of the proposed laws would make an exemption for small retailers, though the Main Street Fairness Act and the Marketplace Equity Act leave room for the states to define what is "small." The Marketplace Fairness Act requires companies to make $500,000 or less from remote sales to qualify as small.
Unlike Amazon, online retailers like eBay oppose the federal bills, saying that it would be too difficult for smaller companies that sell through their websites to comply. "This is another Internet sales tax bill that fails to protect small business retailers using the Internet and will unbalance the playing field between giant retailers and small-business competitors," an eBay vice president said of the Marketplace Fairness Act in a statement.
Until Congress passes federal legislation or unless the Supreme Court takes up the issue again, the uncertainty over sales-tax collection will continue to escalate as states pass their own solutions to the problem. "I think the scary story right now is the fact that you've got every state dealing with it differently," Kline says.